Posts Tagged 'Vita'
Best Of 2012 Pt 2 Portable Uncharted
Last Updated on Wednesday, 12 December 2012 01:59 Written by Laddie13 Wednesday, 12 December 2012 01:59
Continuing on with my game of the year series, this week I look at a few of my favorites on a brand spanking new console, the Playstation Vita. It's not much of a secret that when it comes to gaming I tend to lean-to the Sony side. So this past February I welcomed the Playstation Vita with open arms. The Vita has experienced mixed reactions from the gaming crowd and while there's not been a slew of games releasing weekly for it, there are some gems amongst the slowly but surely building Vita library.
The Vita sports dual analog sticks so being a fan of shooters I was anxious to test it out. First up was Unit 13 a third person shooter that was mission based with the theory that it was easy by jumping in and out of the game since you were gaming on a portable system. It's main downfall was that there was no multiplayer. Resistance Burning Skies, based on one of my favorite Sony series, was mediocre but still offered a very fun multiplayer experience on the go. Currently I'm playing Black Ops Declassified and it's not as bad as some would have you believe. The campaign or lack of one is similar to Unit 13 and offers short missions instead of a story. The multiplayer portion is somewhat of an improvement and will be familiar to fans of the series. The biggest mistake Black Ops Declassified made was not including a zombie mode.
More…
Playstation Plus Coming Soon To A Vita Near You
Last Updated on Wednesday, 14 November 2012 08:15 Written by Laddie13 Wednesday, 14 November 2012 11:00
At Gamescom, Sony announced Playstation Plus would be coming to the Vita. Well the day has finally arrived, look for PS+ for Vita to be up and running with the next PS Vita System Software Update (v2.00) November 19.
Playstation Plus for Vita offers the following titles as part of the instant game collection: Uncharted:Golden Abyss, Gravity Rush, Jet Set Radio HD, Wipeout 2048 and Tales From Space: Mutant Blobs. In addition to that stellar line up you also get Final Fantasy Tactics: The War Of Lions which was a hit on the PSP. If you are a fan of the Uncharted series be sure to grab Golden Abyss as it's a great little addition to the franchise and in my opinion still the best the Vita has to offer.
Free games will be available for download at the PSN store when it updates this coming Tuesday November 20. That's the day you will also be able to snag 1GB of Vita cloud storage that is in addition to the 1GB PS3 storage your Playstation Plus already gives you.
Next weeks system update will also improve  the Vita web browser, let you communicate wirelessly with computers and grant you the ability to check your Gmail and yahoo email.
So geeks does this make either the Vita or Playstation Plus more desirable? Playstation Plus is available for $49.99 a year or $17.99 for a 3 month subscription. As a reminder, if you are planning on using PS+ with the new Vita you will be getting on Black Friday don't forget the memory card! Read more: Playstation Plus Coming Soon To A Vita Near You
Buy A Game On PS3 And Get The Vita Version For Free: Cross Buy
Last Updated on Wednesday, 15 August 2012 02:22 Written by Laddie13 Wednesday, 15 August 2012 05:30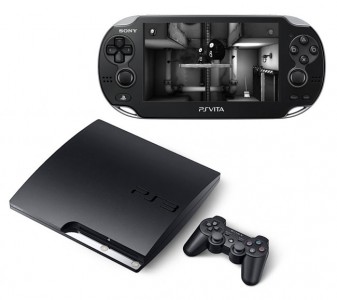 At Gamescom Sony announced a new program called "Cross Buy" that's sure to please those of us who own both the PS3 and Vita. Cross Buy offers a free Vita version of certain games when the PS3 version is purchased. First up in the Cross Buy program will be Playstation All-Star Battle Royale with Sly Cooper: Thieves In Time and Ratchet & Clank: Qforce joining in at a later date. Playstation All-Star Battle Royale releases later this year in November.
Certain PSN games like the recently released Sound Shapes also give you access to both versions of the game upon purchase  but the difference with Cross Buy is that these are retail games which generally cost more and offer a larger game experience. Hopefully this will bolster the Vita's sales because it truly is an amazing little device. I'm curious to see if any third-party  publishers will accept the Cross Buy program or if this will only be utilized for Sony developed games. Either way it's a great program to lure Vita buyers in as well as reward early adopters of the handheld.
The Vita has not sold as well as expected and even combining sales from PSP and Vita have resulted in less than stellar numbers that don't match up to last years PSP sales during the same time frame. Sadly I'm not sure this is going to help convince the masses to purchase a Vita. I feel Sony may only bring redemption to the Vita by a price cut. It's not that the handheld is outrageously priced but it  has zero internal storage and you are forced to purchase a memory card or the Vita is basically useless. I chose to get the 32GB card, costing me an additional $100 which puts the Sony Vita well over what a consumer would pay for the PS3. Not great considering everyone with a smartphone has a cheap outlet for gaming on the go.
Read more: Buy A Game On PS3 And Get The Vita Version For Free: Cross Buy
PSOne Classics Finally Coming To A Vita Near You.
Last Updated on Wednesday, 15 August 2012 02:17 Written by Laddie13 Wednesday, 15 August 2012 03:30
The next Playstation Vita software update (v1.80) releasing soon will add or update many features on the Vita including the ability to play PSOne classics. Being able to play Playstation classics on the handheld is one of the most requested features many of you have been waiting for. For me this means I will get play MediEvil on yet another Sony console. I adored the MediEvil franchise and have played the first game at least once on every Sony console since the original Playstation with the exception of PSP Go but that doesn't really count anyway. Now that I will be able to play it on Vita I beg of you Sony please add MediEvil 2 to the PSOne lineup.
A few other additions to Vita's software update is cross controller which allows you to use the handheld as a controller in compatible games on PS3. If you watched Sony's press conference at Gamescom you saw that Little Big Planet will soon offer new levels that utilize cross controller.
If you did not like using the touchscreen to navigate and control the home screen and certain applications you will now be able to do so with buttons. The rear touch pad is now compatible with the browser which will allow you to scroll and zoom pages.
More…
Read more: PSOne Classics Finally Coming To A Vita Near You.